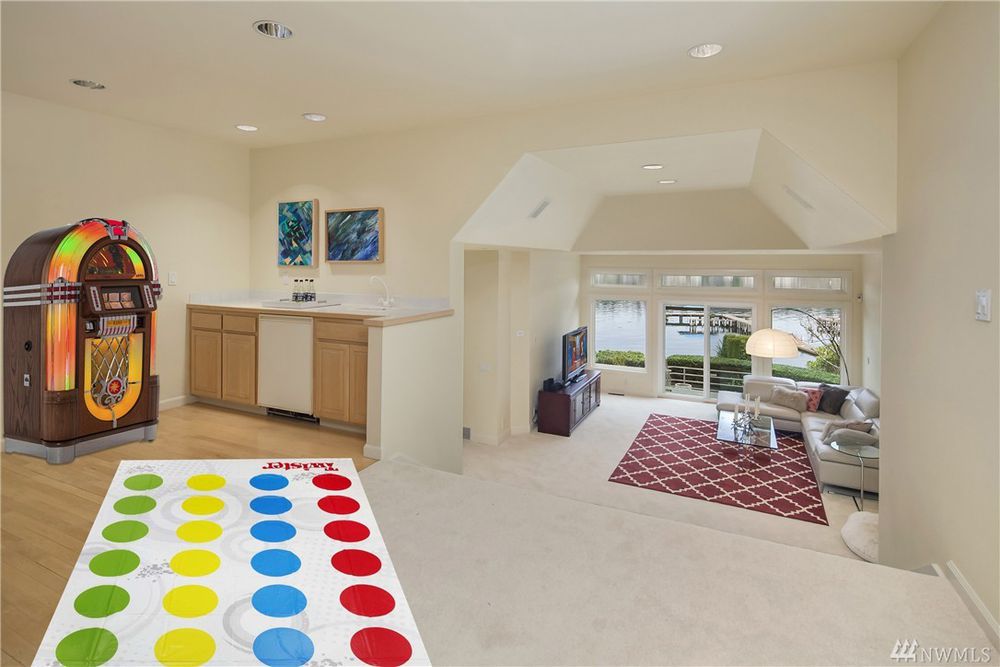 Most buyers will see your home online before they ever step foot inside. Personal items like family photos, unique art, toys, or collectibles can be extremely distracting and take attention away from the features of your home. Blank, clean counters, well-lit spaces, and clutter free rooms make for the best photos. Downplaying your personality allows buyers to envision themselves in that space.
The photo is a funny example of what not to do- instead of appreciating the lake views and arched ceilings, buyers' eyes are drawn to the absurdly placed Twister mat.
How to make your home shine for online listing photos:
Pack up all family photos, memorabilia, knick knacks and any personal items
Check the walls. Take off any posters from kids' rooms, family photos, or art that might not have mass appeal
Remove magnets, calendars, and notes from the fridge (check the front and both sides)
Clear off coat and shoe racks or stash them out of sight.
Take appliances off the kitchen counters. Stash them under the sink or pack them in boxes if you won't need them. Make sure dishes and food are put away.
Pack up toys and stuffed animals from kids rooms that aren't played with often. You can get a bin for daily-use toys and hide it under a bed or in a closet. Avoid having toys visible in the pictures, including on the bed or in a corner.
Remove all toiletries from the bathroom counters and shower. Personal care items will stand out a lot in photos. Clean, white towels look nice on towel racks. Same with a plain, neutral colored shower curtain. (Check out "Home buyers don't want a stranger in their shower" for more on this topic)
Make sure all lights are in working order, dark spaces photograph poorly.
No house plants. "Why I hate your house plants"
Consider renting a POD storage locker if you're having a hard time finding a place to store things out of sight. They'll take your boxes and store them until you're ready to have them delivered to your new home!
If you're not sure where to start, we're always happy to do a walkthrough and create a personalized list of "to-do" items.  I know it can feel a bit uncomfortable to live without your personal things around you. I promise you'll be glad you did!
-Jen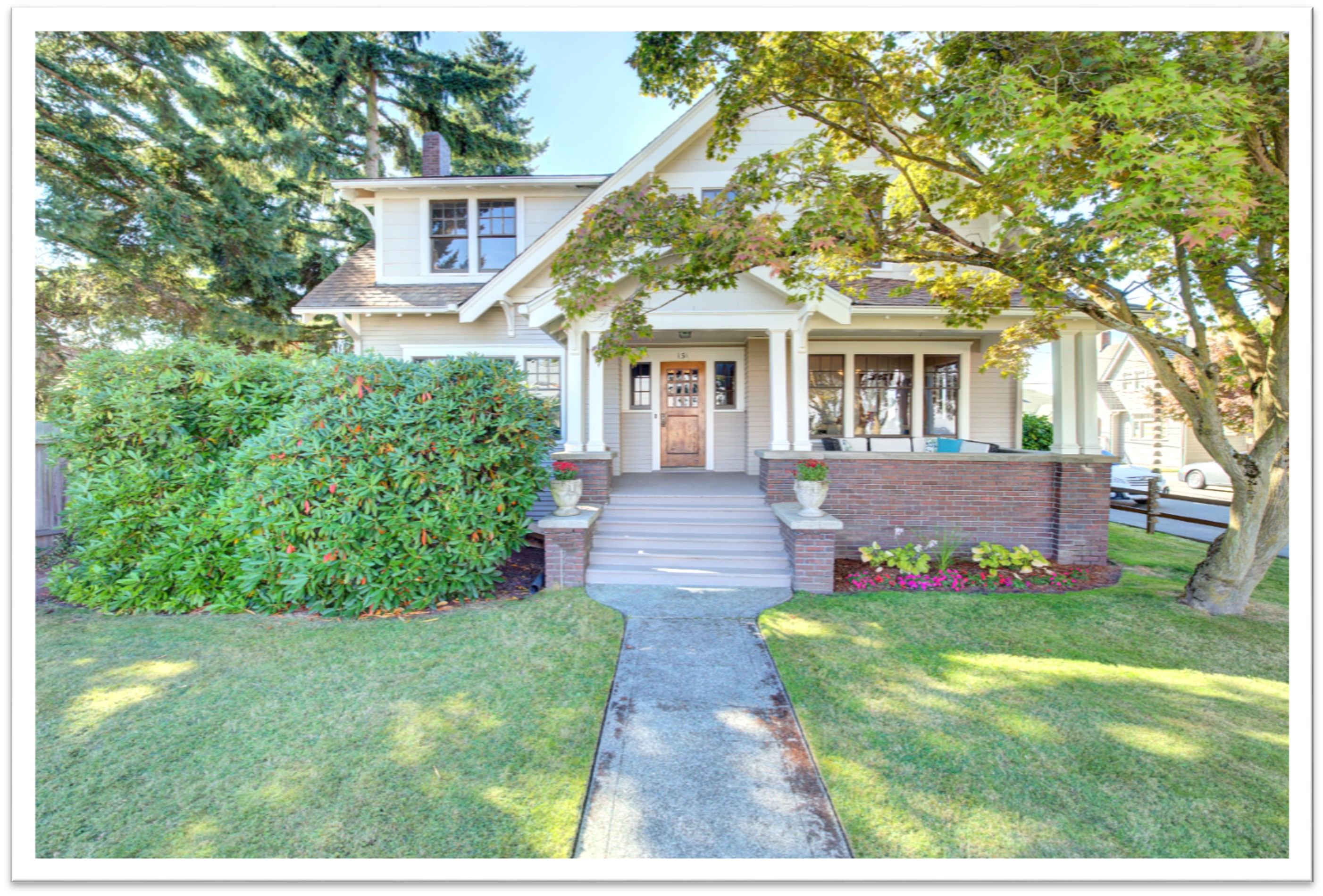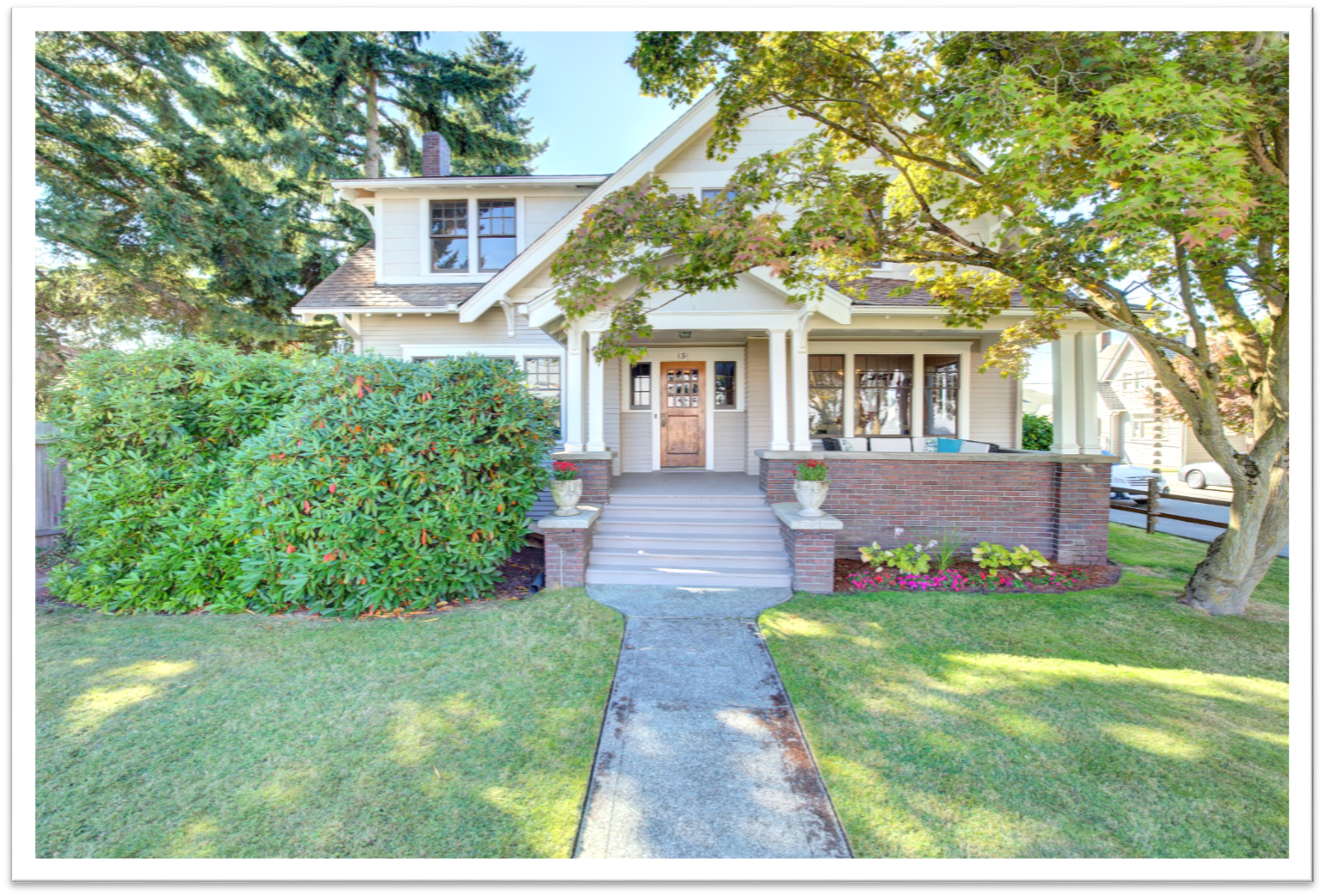 My team loved the unique history behind our new listing (built 100 years ago!) in Downtown Renton and we had to share. The owners requested information from the Renton Historical Museum and recieved the following:
Dear Diana,

I actually found out quite a bit about your mother's house at 131 Garden Ave. N. It was actually built (and probably designed) by George W. Custer, a prominent Renton builder.  He is well-known here for his Craftsmen-style houses—you can see them all around North Renton.  Albert N. Fairchild, the owner of Renton Lumber Co., contracted with Custer for the house, and Sturman H. McDaniel was the foreman on the project.  According to Custer's ledgers in our collection, McDaniel worked for Custer from September 1912 through February 1918, at which point he disappears from the historical record. (His wife Audria is widowed and living with their two children in Los Angeles by 1930.)  The Fairchilds lived in the house until about 1930, at which point your father purchased it.

I have attached one of our newsletter articles on Custer, as well as a couple newspaper articles from 1917 about the construction of your house.  We also have a couple photos from 1928, which I have attached.  And there's a page in the Custer ledger for 1917 that shows McDaniel as the foreman on the project.

I hope this helps—I'm not sure there's much more to find.  McDaniel may have joined the military during WWI, although I don't see a record of it, or he and his family moved elsewhere.  Custer remained here building houses until his death in 1963.

Please let me know if you have other questions!

Sincerely,

Liz Stewart, Renton Museum
Read about George W. Custer in the Renton Historical Society & Museum Newsletter here: Renton Historical Quarterly- George W. Custer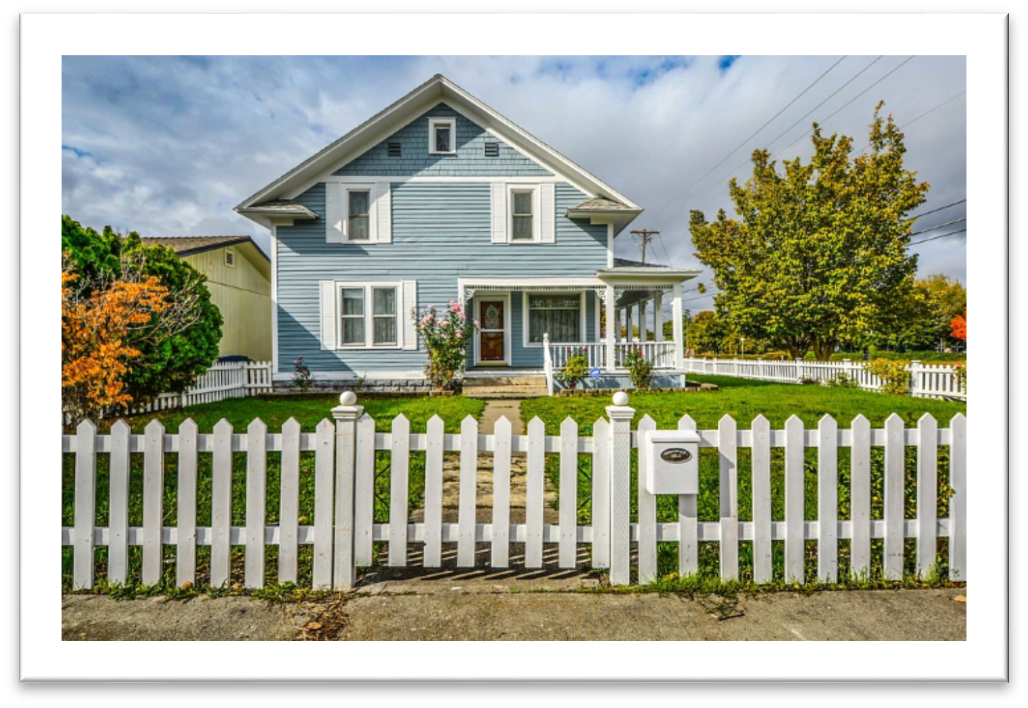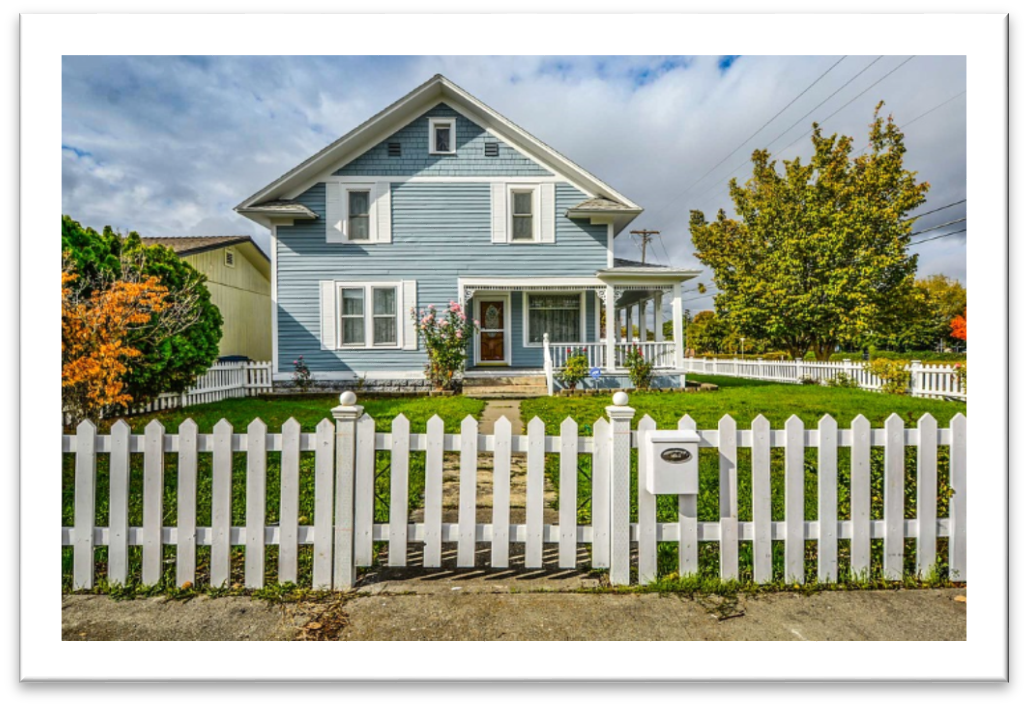 Owning a home has long been considered part of the American Dream. In years past, dreams of a white picket fence were closely linked to expectations for marriage and children. This is no longer the case in 2017. Only half of American adults are married following steady decline since the 1960's. Today, marriage happens at an older age on average than in decades prior. While planning for one's future was never certain, our culture no longer offers a normative path that young people can expect to follow.
Although homeownership rates have been on a declining trend since the recession, young Americans have not abandoned their dream of owning a home as they have the institution of marriage. Available financial data demonstrates why this is a smart choice. Between 1999 and 2013, homeowners saw a median wealth gain of $91,900 while the median wealth of renters remained below $2,000. Owning a home also provides protection from rent increases, a pressing problem for those in the Seattle metro area.
Lots of Americans are taking on the challenge, and reaping the rewards, of buying a home on their own. Single women have already realized the benefits, making up 17% of home buyers last year. Single men are lagging behind making up only 7% of home buyers in 2016.
What's the takeaway? In 2017, getting married, buying a home and having kids are not a package deal. If your dreams include owning a home, don't wait.
Co-written by Rachael Laxton & Jennifer Clukey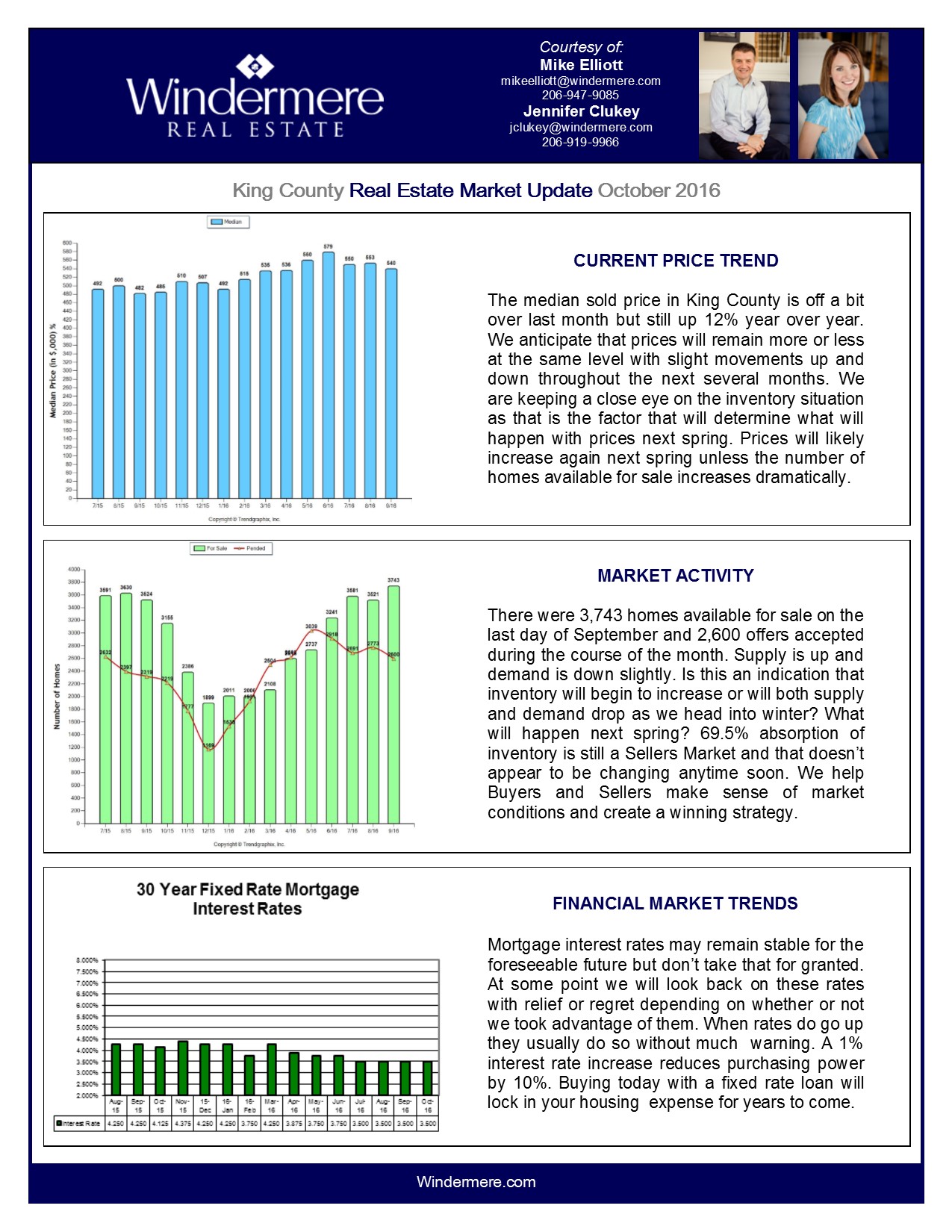 We're seeing a slight seasonal cooling in demand this month. Potential buyers should keep in mind that interest rates may not always be this low and rate increases will reduce their buying power significantly. Want to talk strategy? Give me a call!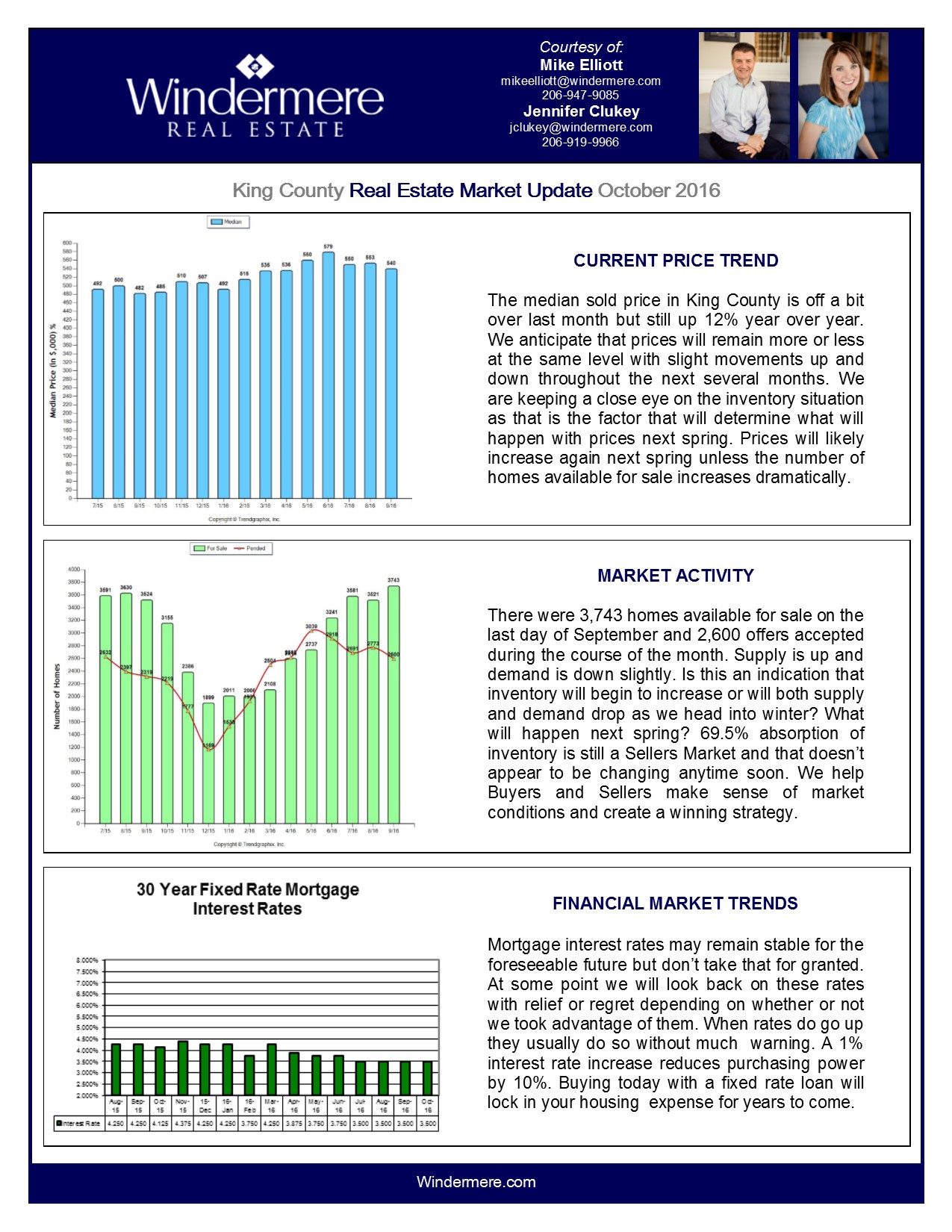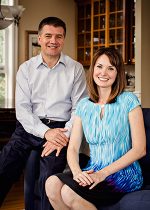 Are you sick of all the media hype about Seattle's real estate market? (here's yet another article telling us that the area is growing- goo.gl/pHHGd0) Or does the 11% increase in median sold price have you wondering what your house might be worth? Whatever you're thinking, we're happy to help you strategize your next step. Give us a call! -Mike (206)947-9085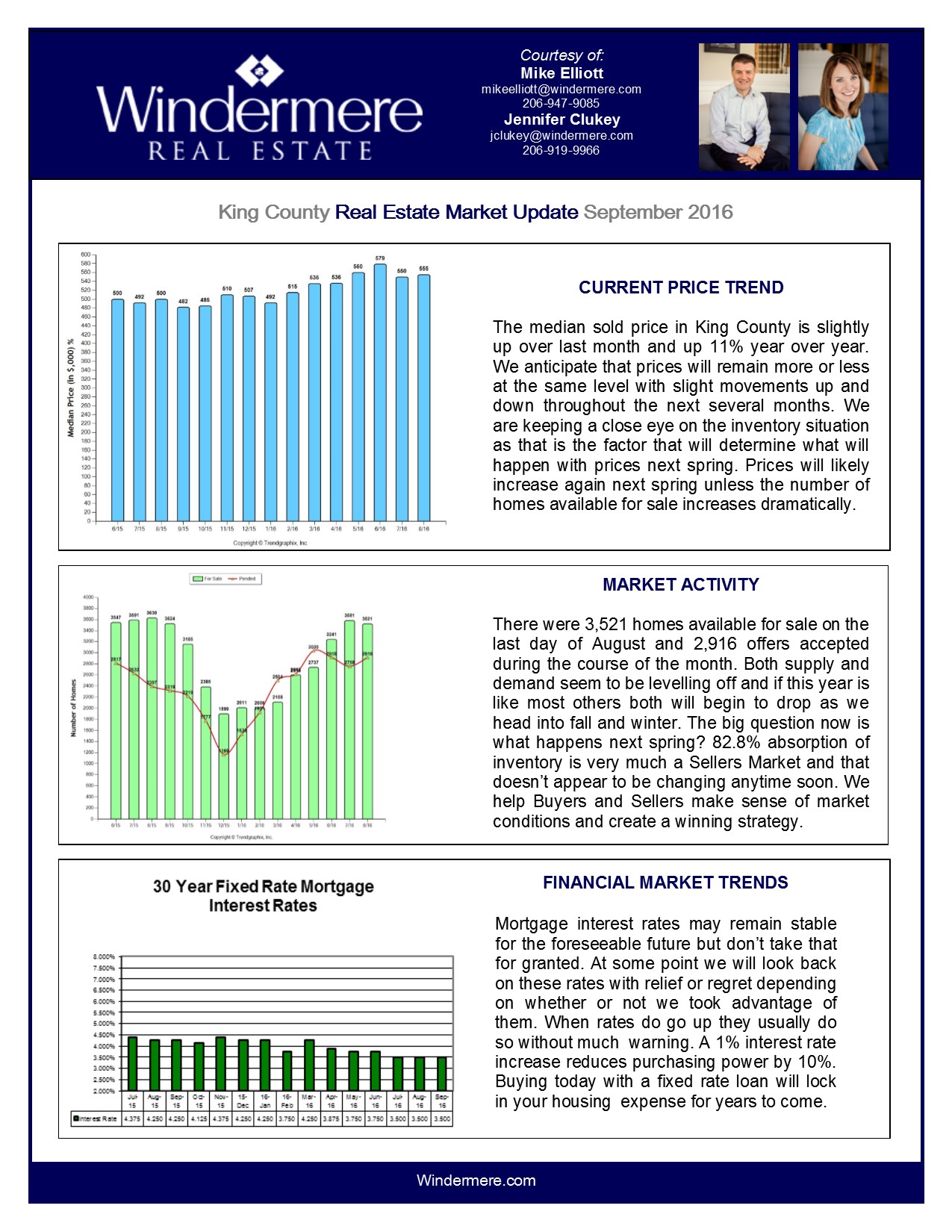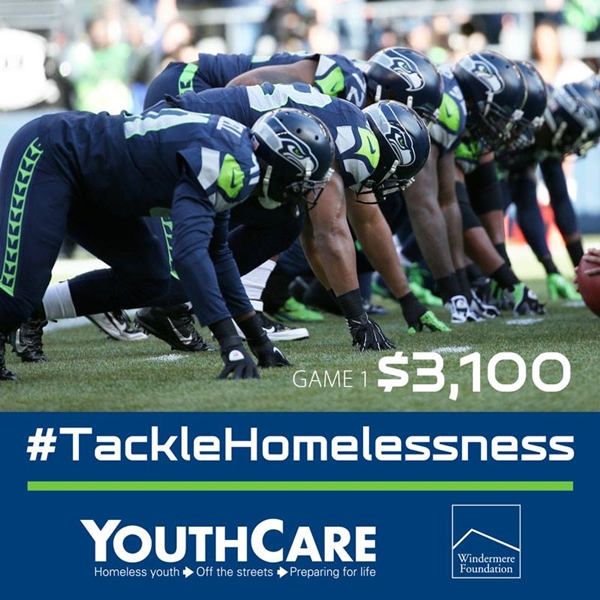 As the Official Real Estate Company of the Seattle Seahawks we are excited to announce the Windermere Foundation will be donating $3,100 to YouthCare from last Sunday's game as a part of our shared goal to #tacklehomelessness. For each home game tackle by the Seahawks during the 2016 season, Windermere will donate $100 to help provide […]
via Windermere Foundation announces their first donation for #tacklehomelessness — Seattle Spaces & Places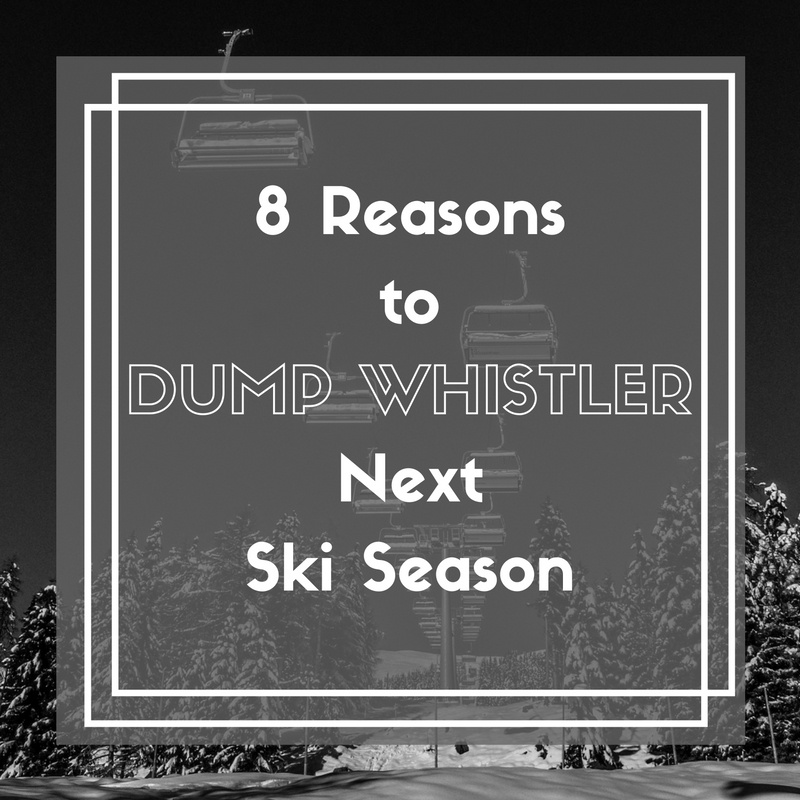 It's time to dump your Whistler ski trip in favor of Sun Peaks, BC. (For people over 30 or who have always wanted to be).
Side note- This is a real estate blog but it's the end of summer and everyone is on vacation, so my blog is going on vacation too. J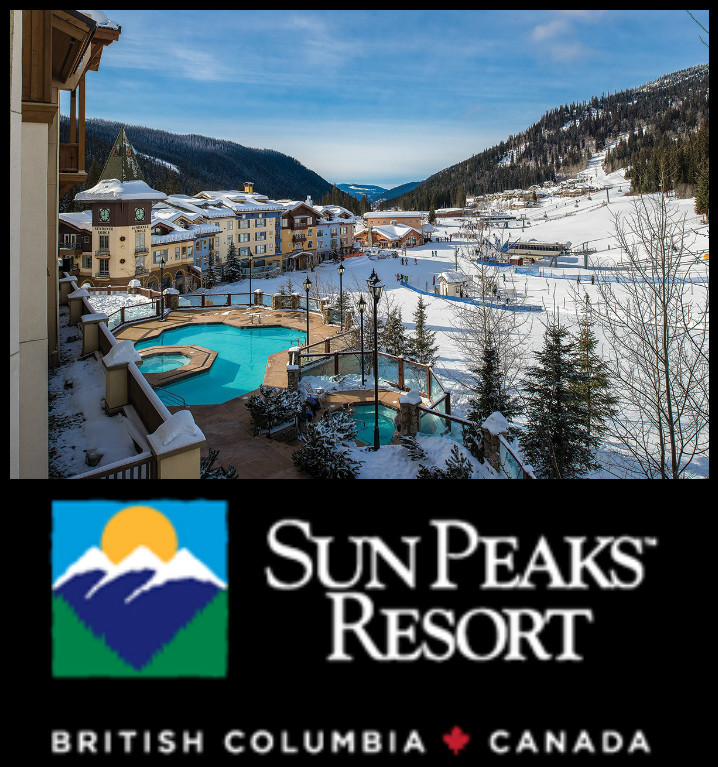 Cost of tickets and rooms – Lift tickets are $15 less per day, and rooms are 25%-30% less. Save the extra for retirement, you're over 30 now.
Snow – Remember the 2010 winter Olympics in Whistler with no snow? They should have known, it's the standing joke. Sun peaks has dryer snow for powder days first, followed up with perfect corduroy from the groomers the next morning.
All trails lead to the base– Lots of terrain with most of it ending up in the main village- more likely ski patrol will find your kids the same day.
Lift lines– Whistler needs to implement the Disney fast pass if any of us are going to take more than one run. Not at Sun Peaks… I'm annoyed if I can't slide in sideways and straight onto the chair. And who is that other person on my run?
Find Your Groove– Frankly-half my time on Whistler Mountain is spent skiing around figuring out where the heck I am. I've spent more time on crappy cat tracks trying to get around the hill than actually skiing runs. Sun Peaks is all about the ski runs; you're only cat-tracking if that's your thing.
Real estate– Prices you might actually be able to afford in your lifetime. Honestly, part of skiing is dreaming of owning one of the ski/in-ski/out properties. Sun peaks has them for under $500k US.
Night life – Since you're probably here to ski as your main activity, a good night's rest is a necessity. The drunk chicks screaming in Whistler Village will wake you up at 3am. Not at Sun Peaks. Everyone is tucked in by midnight.
Dogs– Bring em'-Everyone has one. They're the new Uggs.
9***Bonus-Secret Eats*** No Starbucks. Instead, small business owner (Conrad from Poland) making fabulous lattes and the best berry scones hot out of the oven. Best you've ever had. Don't miss Bollaco Caffe' for your morning brew.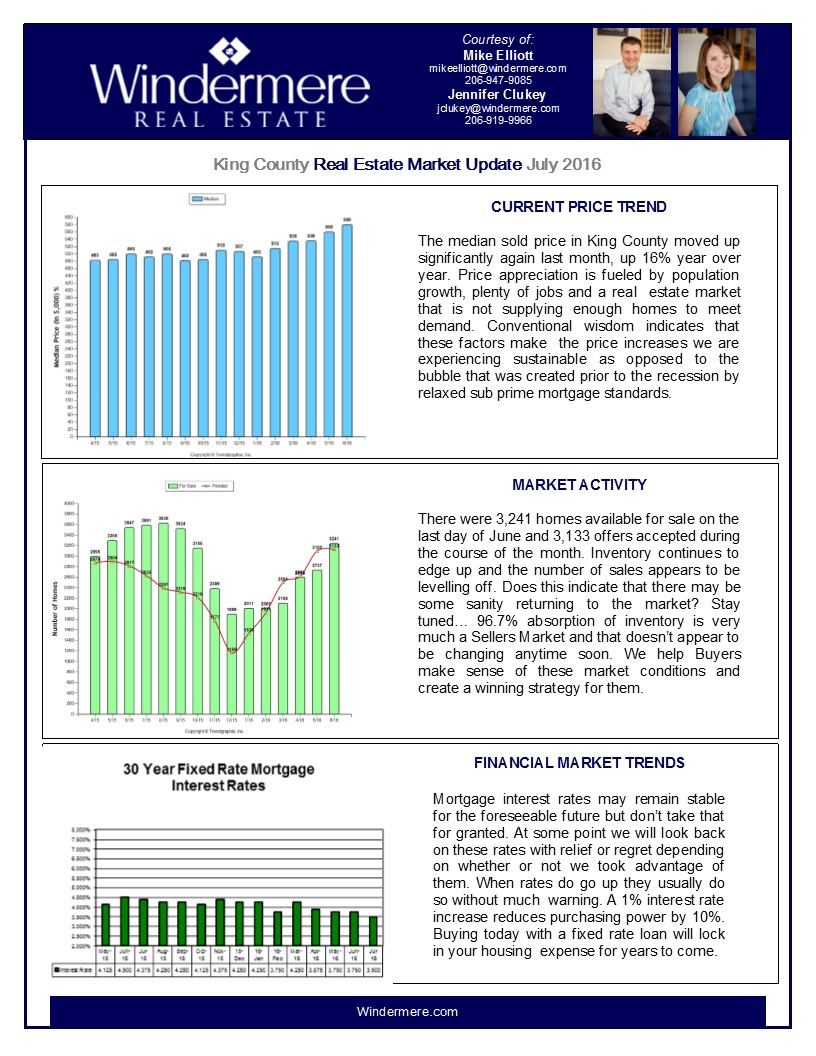 In Seattle's fast paced sellers' market, the media makes it seem like all you need is a "For Sale" sign to have buyers fighting to make an offer. So why would a homeowner need a real estate agent if they want to sell? An experienced agent can help sellers maximize their property's exposure to the market, and as a result, receive the top market value. Without this exposure, a homeowner may be selling themselves short. Do you have questions about what your property might be worth? Give me a call and I'd be happy to help you strategize. – Mike (206)947-9085