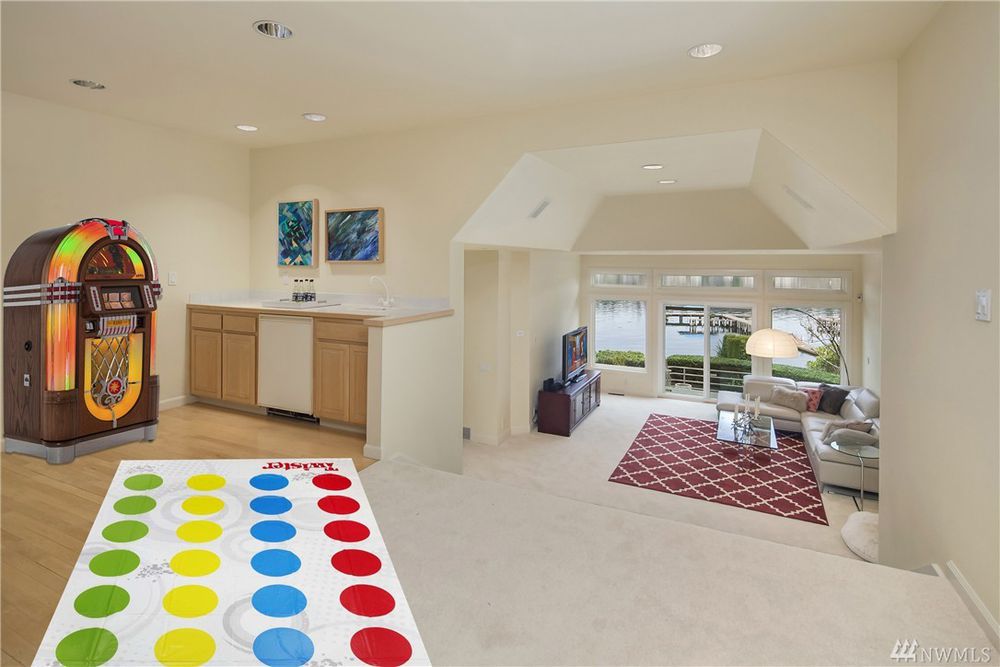 Most buyers will see your home online before they ever step foot inside. Personal items like family photos, unique art, toys, or collectibles can be extremely distracting and take attention away from the features of your home. Blank, clean counters, well-lit spaces, and clutter free rooms make for the best photos. Downplaying your personality allows buyers to envision themselves in that space.
The photo is a funny example of what not to do- instead of appreciating the lake views and arched ceilings, buyers' eyes are drawn to the absurdly placed Twister mat.
How to make your home shine for online listing photos:
Pack up all family photos, memorabilia, knick knacks and any personal items
Check the walls. Take off any posters from kids' rooms, family photos, or art that might not have mass appeal
Remove magnets, calendars, and notes from the fridge (check the front and both sides)
Clear off coat and shoe racks or stash them out of sight.
Take appliances off the kitchen counters. Stash them under the sink or pack them in boxes if you won't need them. Make sure dishes and food are put away.
Pack up toys and stuffed animals from kids rooms that aren't played with often. You can get a bin for daily-use toys and hide it under a bed or in a closet. Avoid having toys visible in the pictures, including on the bed or in a corner.
Remove all toiletries from the bathroom counters and shower. Personal care items will stand out a lot in photos. Clean, white towels look nice on towel racks. Same with a plain, neutral colored shower curtain. (Check out "Home buyers don't want a stranger in their shower" for more on this topic)
Make sure all lights are in working order, dark spaces photograph poorly.
No house plants. "Why I hate your house plants"
Consider renting a POD storage locker if you're having a hard time finding a place to store things out of sight. They'll take your boxes and store them until you're ready to have them delivered to your new home!
If you're not sure where to start, we're always happy to do a walkthrough and create a personalized list of "to-do" items.  I know it can feel a bit uncomfortable to live without your personal things around you. I promise you'll be glad you did!
-Jen
Have you ever purchased $10,000 worth of throw pillows? You might if you are selling your home!  I don't mean the pillows will actually cost $10,000 but, they could put $10,000 in your pocket by increasing the value of your house. The reality in today's market is that staging a home is no longer luxury. It's a necessity! That doesn't always mean hauling out your own furniture and filling it with fake furniture, but it does mean putting it in market ready condition. Neutral colors with consistent pops is the easiest option and gives you the best bang for the buck. To start, you must pick a theme color. An example would be, blue or grey as a neutral color with a pop of orange and/or white. Throughout this process you will likely spend a couple hundred dollars on coordinating throw pillows, wall art, and hand towels, even if you buy them from TJ Maxx or Fred Meyer. Remember, you are not decorating, you are staging! When I decorate my own house, I buy $50 throw pillows from pottery barn because I LOVE THEM, AND MY ENJOYMENT FACTOR IS WORTH THE MONEY. However, $50 per pillow will not get you more money when you sell your house. Remember, decorating is for personal enjoyment but staging is for effect.
Once your pillows, art, and hand towels are set it may not seem that dramatic to the eye, but it will be dramatic in the photos. Photos are how buyers are enticed to come see your house in person, so how the photos look is just as important as the house.
That may be all you need to pull your room and house together.  The more your house is pulled together, the faster it will sell, and the faster it sells, the less negotiating you TYPICALLY have to do. I have regularly seen homes that are market ready sell for $10,000 more than those that looked like they threw a sign in the yard on their way to the next activity.